ADMISSION
Thank you for your interest in St. Mary's Inter College. We are honored that you are taking the time to learn about St. Mary's – a truly magical place.

· Admission is granted purely on the basis of merit irrespective of caste, creed or community.
· Every candidate must be registered with the school prior to appearing for the admission test.
· For registration, the parent/guardian should obtain the prospectus-cum-application form on payment from the school office. It should be submitted to the school office within the specified time.
·Documents required at the time of registration are:
1. Two photographs of the child
2. Date of Birth Certificate from Municipal office
3. Proof of residence
4. Mark sheet of the previous class passed (from class 1 onwards)
5.TransferCertificate
Registration does not guarantee admission. From class 1 onwards every candidate will be required to appear for an admission test, it is the responsibility of the parent's/guardian to bring the candidate to the school for the test on the date & time fixed by the school, failing which no admission test /interview will be conducted again.
· On the basis of the test and personal interview students will be selected for admission. The parent/guardian will be required to deposit the fee within three days of the issue of the admission order. Failing that the seat will be treated as vacant and will be offered to the next candidate at the discretion of the Principal.
· At the time of admission student migrating from other schools should get a transfer certificate duly countersigned by the District Education Officer and a mark sheet from the school last attended, failing which admission will be cancelled.
· Registration for admission test is valid for one admission test only. Registration fee is not refundable. Parents should read the terms and conditions, age requirement, and other conditions carefully before registering the child.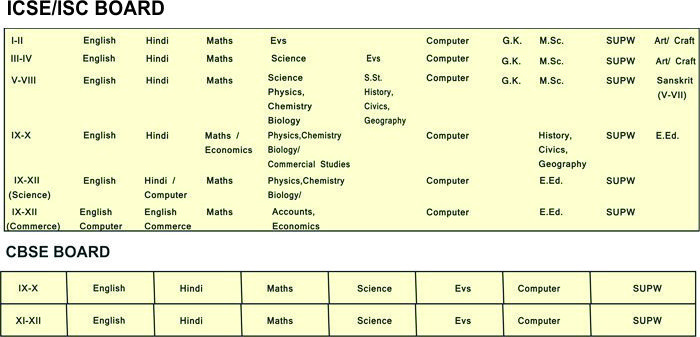 SHARE YOUR INTEREST
Complete our Online Inquiry Form to let us know that you
are interested in Our School
VISIT OUR CAMPUS
You will be sent a schedule of tour dates in which you may register for one that
Award for the best school
Frequently asked questions
All classes are taught predominantly by their form teachers and teaching assistants within their own classrooms. The exceptions are Games, Gymnasium, Splash Pool, library and music, all of which are taught by specialist staff.
Does S.M.I.C. have sports teams?
Yes we have sports team with four houses i.e. Red, Green, Yellow, Blue.
What is the student/teacher ratio?
We follow 30:1 Student/Teacher ratio which is perfect for learning.
What are the Conveyance System?

We have different type of conveyance i.e. Bus, Van, etc.